Powerstop P15K207136 Extreme Truck & Tow (Z36) Brake Disc and Pad Kit - 12.8 in. Disc Diameter
Brake Discs, Pads
Product Details POWERSTOP – Z36 EXTREME TRUCK AND TOW BRAKE DISC AND PAD KITS Replacing brakes is an investment, and if you drive up and down hills all day or tow...
Real time
+

51
visitor right now
Product Details
POWERSTOP – Z36 EXTREME TRUCK AND TOW BRAKE DISC AND PAD KITS

Replacing brakes is an investment, and if you drive up and down hills all day or tow big loads in your truck, SUV or fleet vehicle, you need PowerStop's Z36 Truck and Tow brake disc and pad kit to keep your brakes cooler and lasting longer. PowerStop Extreme Performance Brake Systems, a team with over 200 years of combined automotive experience, is a world-renowned leader in brake technology and product development.
Friction coefficient is 17% higher in PowerStop's semi-metallic pads than factory brake pads
Primarily for large trucks, tow vehicles and big SUVs
Features 20 percent increase in stopping power compared to OEM or other brake systems
Offers longer wear than competitive/ceramic pads in extreme duty applications
Backed by an unmatched 3-year warranty for rotor cracking
Meets and exceeds factory specifications
Supports cooler braking by pulling heat away from rotors
Highlights
Location:

Front

Series:

Powerstop Extreme Truck & Tow (Z36)

Quantity Sold:

2-Wheel Set

Bolt Pattern:

8 x 6.5 in.

Recommended Use:

Performance

Disc Design:

Cross-drilled and Slotted

Pad Material:

Carbon Ceramic

Disc Finish:

Silver Zinc Plated

Disc Material:

Cast Iron

Disc Diameter:

12.8 in.

Disc Construction:

Vented Rotors

Disc Hat Finish:

Silver Zinc Plated

Anticipated Ship Out Time:

Same Day or Next Business Day

Warranty:

3-year / 36,000 Mile Powerstop Limited Warranty
About Powerstop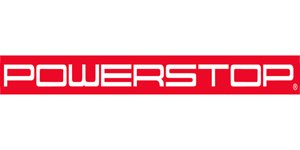 Powerstop Brake Rotors are the most economical way to improve your vehicle's braking power. TRW Powerstop Brake rotors are installed the exact same way as a stock replacement brake rotor. The difference is the improved stopping performance, and longer brake component life. Powerstop Brake Rotors are available for most vehicles cross-drilled or slotted. There are select applications that are available as a combination of cross-drilled and slotted. Coverage ranges from economy coupes to 1-ton trucks. There are other brands of performance rotors on the market, but none of them offer the combination of value, quality, and performance of Powerstop brake rotors. Some of the competition use low quality, off-shore manufactured rotors to create a price advantage over the Powerstop line. The lower cost usually sacrifices quality and performance.
3 Customer Reviews
Thu Oct 16 2014by RVer
Brakes and Rotors
Installed High Performance brakes and rotors break-in instructions. I went on vacation in the mountains regions of VA. and NC. Going off Fancy Gap Mountains on I-77 brakes got hot and you could smell them. At bottom of mountains brakes was getting very hot. Also brakes make a noise when installed and after driving. These are not for heavy towing. May be OK for reg. driving. Camper brakes was set proper. Did not have these issues with OEM brakes. OEM brake pads was in good condition but rotors were worn. Would not recommend these products.
Thu Jul 10 2014by T-Bone
Best Purchase Ever
I purchased Power stop rotors and brake for my 2010 Chevrolet 2500 four wheel drive. I have always had a problem stopping the truck quickly. I put on these brakes and rotors about one month ago and no more problems stopping my truck quickly.
Tue Dec 03 2013by Paul
Powerstop Brakes for Chevy 2500
The auto shop that put these on said I did really good and that they are way better than the standard brakes they would have put on for the same price. Said they were really beefy and would last me a long time.